Ms. Parman did a great job with my DUI. She responded to my request for representation immediately. She was able to get my ticket reduced, for good cause. I found out about Ms Parman because she was able to get a not guilty verdict in a jury trial because the intoxilator results were faulty.
Zebra Ziggy Freed; Zips Home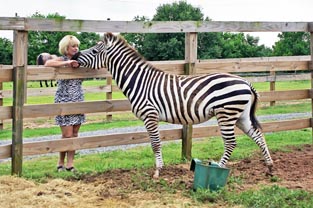 FORSYTH, Ga. -- Ziggy the Zebra is going home to the farm, but it took a lawyer and multiple meetings with a judge to spring him from state custody. His owner, Christian Gray of Bolingbroke, reached an agreement yesterday with the Georgia Department of Natural Resources allowing him to reclaim the zebra that was confiscated from his 17-acre farm in August because he did not have the proper license. He must pay a $4,000 a civil penalty for having a wild animal without a permit, $500 in boarding fees to a licensed wildlife facility that took care of Ziggy after he was confiscated and $236 for a wild animal exhibition license. Gray told The Macon Telegraph "That's a lot of money for a zebra I already had, but Ziggy is priceless to me and my girls." After DNR officials confiscated Ziggy on August 28, Gray and his neighbors began a "Free Ziggy" campaign. Gray hired an attorney to help."Ziggy is a pet, a real member of the family, and he follows Christian arround and plays with Christian's children," said attorney Ann Parman. "He plays with Christian's dog, likes to swim, plays in the water hose, everything that a regular pet would do." The case was scheduled to go before Monroe Superior Court Judge Thomas H. Wilson Thursday, but instead the parties met in chambers with Wilson three times during the day to hammer out an agreement. Robin Hill, communications program manager for the DNR's Wildlife Resources Division, said the DNR is satisfied. Gray bought Ziggy about a year ago when it was 2 weeks old from a friend in Texas who raises exotic animals. He took Ziggy home to his daughters -- 12-year-old Chloe and 5-year-old Abby. Gray said he and his daughters plan to host a neighborhood party to welcome Ziggy home and that he is already booked for several functions, including the upcoming Christmas parade in Forsyth.